Pastor
Dr. Gary Hearon

Dr. Gary L. Hearon, a native of Rock Hill, South Carolina, is the Executive Director Emeritus of Dallas Baptist Association, Dallas, Texas. He retired from that office September 30, 2006, having served in that capacity since January 1, 1985. At the conclusion of his service with DBA, he worked with over 560 congregations worshiping each week in 74 different languages and dialects. At that time, DBA was larger (congregations and/or members) than 22 state conventions.
Prior to coming to DBA, Dr. Hearon served as pastor of Southern Baptist churches for 24 years in Texas and North Carolina, taking his first pastorate when he was a junior in Baylor. His last pastorate prior to his ministry with DBA was the 3500 member Lakeside Baptist Church, Dallas. He concluded a four and a half year pastorate with First Baptist Church, Canton, TX in August, 2011 and was designated "Pastor Emeritus" upon his retirement. He holds degrees from Baylor University, Southwestern Baptist Theological Seminary, and Dallas Baptist University.
Dr. Hearon has preached extensively in revivals and crusades through-out the South and Southwest. He has also preached missions and crusades in Germany, Korea, India, Brazil, Colombia, Russia, and Siberia. For a number of years, he served on the Heritage and Identity Commission of the Baptist World Alliance. He has also served as a trustee of several Baptist institutions, including Dallas Baptist University, and as a member of the executive board of the Baptist General Convention of Texas and the Baptist General Convention of North Carolina. He was the founder of the Texas Association of Directors of Missions Conference and served as its president for two years. He also served a term as the president of the National Conference of Associations Directors of Missions of the Southern Baptist Convention.
Gary and his lovely wife, Paula, have been married for 53 years as of August 3, 2016! He married "way above his head," and it was the best day's work he ever did! They have three children—all married—and six adorable grandchildren, ages 1-10. They have just returned to Waynesville, NC in 2013 to retire after a 34-year sojourn in Texas. Dr. Hearon accepted the call to Antioch Baptist Church in August, 2014.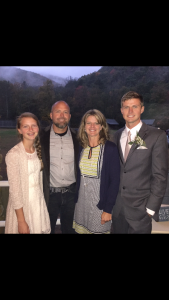 Jeff Cairnes
Student Ministry Director
Jeff was called to be the Student Ministry Director of Antioch Baptist Church in the spring of 2011. He has a heart for the students and young adults at Antioch as well as throughout the community. He has worked with the youth of Haywood County for over 20 years and has a passion to see today's youth and young adults know Jesus in a real and personal way.
Prior to his ministry at Antioch, Jeff was a lineman at AT&T for fifteen years. His hobbies include: fishing, hunting, wood working and spending time with friends and family.
Jeff is a current student at Fruitland Baptist Bible Institute where he is pursuing a degree in Christian Ministry. Jeff and his wife Debbie have been married for 25 years and have two children, Jonathan and Jessica.
Robin Gosnell
Children's Ministry Director

Robin was called to be the Children's Director in the Fall of 2011. Robin's passion is
to see children love God's word and one day accept Christ.
Before full-time ministry, Robin worked as an Education Director at 2 different
churches and an Elementary Teacher. She enjoys running, reading, drinking coffee
and talking.
Robin loves her family which includes Hannah, Rebekah, Sarah,
and her granddaughter Neriah.
Hannah is income manager caseworker I at Buncombe County Department of Social Services.
Rebekah is a case manager at Broyhill Children's Home in Clyde, NC.
Sarah works at Carolina Hand and Sports Medicine in Asheville, NC.
Michelle Presnell
Office Administrator

Michelle began working at Antioch in July 2010. Michelle's passion is to use her spiritual gifts in caring and compassion to all she meets in the church office. She enjoys journalism, spending time with her kids, painting, and anything else that requires creativity. Michelle loves her family which includes Bret her husband of 20 years, and their children Savannah (18), Jonah (17) and Hayden (13).