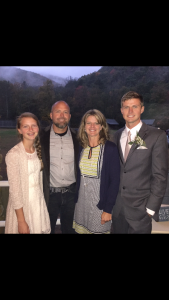 Jeff Cairnes
Student Ministry Director
Jeff was called to be the Student Ministry Director of Antioch Baptist Church in the spring of 2011. He has a heart for the students and young adults at Antioch as well as throughout the community. He has worked with the youth of Haywood County for over 20 years and has a passion to see today's youth and young adults know Jesus in a real and personal way.
Prior to his ministry at Antioch, Jeff was a lineman at AT&T for fifteen years. His hobbies include fishing, hunting, woodworking and spending time with friends and family.
Jeff is a current student at Fruitland Baptist Bible Institute where he is pursuing a degree in Christian Ministry. Jeff and his wife Debbie have been married for 25 years and have two children, Jonathan and Jessica.
Robin Gosnell Watkins
Children's Ministry Director

Robin was called to be the Children's Director in the Fall of 2011. Robin's passion is
to see children love God's word and one day accepts Christ.
Before full-time ministry, Robin worked as an Education Director at 2 different
churches and an Elementary Teacher. She enjoys running, reading, drinking coffee
and talking.
Robin loves her family which includes Hannah, Rebekah, Sarah,
and her granddaughter Neriah.
Hannah is income manager caseworker I at Buncombe County Department of Social Services.
Rebekah is a case manager at Broyhill Children's Home in Clyde, NC.
Sarah works at Carolina Hand and Sports Medicine in Asheville, NC.